---
Some notes from an early Krystonia/Panton employee! The below are my opinions/thoughts only. Thank you Anita Bradley and James Proctor for the information!

I ran the Krystonia order desk and office from 1989-1991, as well as the collectors club. If you wrote to Krystonia during those years, most likely it was me that responded. A

---
Mark Newman partnered up with Beau Dix and Mark Scott right after graduating from Art School in the late 80's. He traveled to England and they developed a production studio and he sculpted the original 19 krystonia figurines. He was under the impression that he was to be a part owner in the company and as the line was becoming more popular, he was marginalized. What he thought was going to be a joint venture ended up a "hard lesson" in dealing with people in business. He said that they reached out to the "Michigan Company" who had a streamed-lined marketing/production process and they initially partnered up and subsequently had a "falling out" where Panton took over the line. He left the company and signed over the copyrights to his illustrations and the Krystonia sculptures to "get his life back".

He ended up partnering with another creative author and illustrator, Gayle Middleton with Willitts Design and developed the Elanti: Quest for the Stones line of collectible figurines and started to make a go of it. Panton became aware and sued for copyright infringement which dissolved the Elanti line. He is now a phenomenally successful sculptor in the Bay area.

Dave Woodard took over the role of creating the piece concepts, taking what he could from the original book that was not produced in the first run (N'Tormet, Vena, etc). From 1991 onward the pieces were all Dave, Pat and Sam (and possibly Rubin, later on?) - lots of dragons, very little else.

ROUGH TIMELINE

1986 - Krystonia is pitched to Precious Arts by Beau Dix, Mark Scott, Mark Newman (illustrator/sculptor) & others. At the time Precious Arts is known for making music boxes, carousel horses, and other random gift store items. Precious Arts would continue to sell various lines seperately.

1987 - First Krystonia pieces released to various gift shops, hallmark stores and (oddly) tobacco shops.

1988 - Some sort of legal battle (?) where Beau Dix & Co. loses control of the Krystonia name. Panton takes over design of pieces.

1989 - Willitts & Mark Newman create "Elanti" line very similar to Krystonia. Sued for copyright infringment, and product is ordered destroyed.

1989 - Waterglobes and Plaques made in Taiwan. They are terrible quality. Many returns by stores upset by the poor QC.

1990 - Collectors Club announced.

1991 - Miniatures introduced and are wildly popular. Collector Club Keys "gift" (made in Taiwan out of some sort of resin material) and sent out in large manilla envelopes without any padding. After about a 50% return rate due to breaks, they start wrapping in bubble wrap.

1993 - First "Color Variant" show piece (Red Tag the Troll) - probably for Limited Edition which was their biggest store.

1994 - Holiday Ornaments, Large scale "Fair Maiden" lines introduced.

1994 - First "Event Only" piece that was not sold to all stores (Big Event)

1995 - First Calendar, Lithographs

1997 - First "Event Only" piece with color variant - club members only? (Blue Stoopy)

1997 - Final England pieces and "Dragon Babies In Diapers".

1998 - Production Moved to China. Initial quality is not horrible, but declines quickly.

1999 - Newer waterglobes. Better than 1991 versions!

1999 & 2000 - Oddly, no variants or color variations offered

2001 - Wizards Council pieces only sold at "select stores" (probably those that had more than X$ in sales?)

2001 - Back to 1 Event Only piece, 1 Event Only color variant (club only) and 1 Event only Production Color Variant

2002 - Switched "Event Only color variant" to "Club Gift - Color Variant". Both were offerered to club members only

2002 - Changed to (much) smaller scale pieces.

2002 - Switched to different manufacturing material - much more "plasticy"

2005 - Severe drop in quality of pieces

2006 - Final pieces sold

2007-2013 - New Old Stock (NOS) sold with gold and silver "paint highlights". Occiasionally sold with non-krystonia pieces from Precious Arts other lines (Tuth-Peck, Mouse and Cheese)

2013 - Dave Woodard retires and Krystonia is officially done.


---

The first batch of Krystonia was much, much more highly detailed.


VERY early Grunch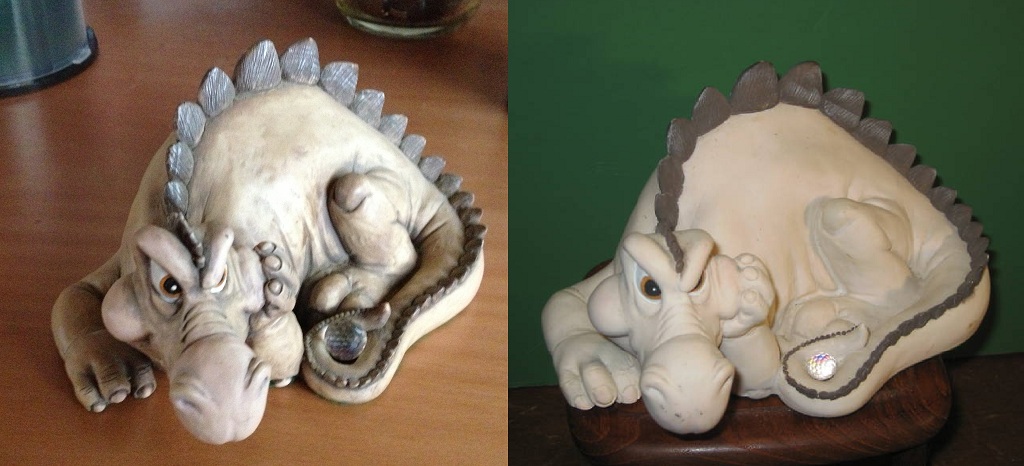 Grunch as an example - early piece, lots of dark highlights, etc. Later piece - slop on the solid gray color! Also note the smaller krystal (to save money).

Now check out the differences between the two Spkye figures - the first one is an early version where some real attention and time was spent. The later Spyke (as evidenced by the item number) looks much more like a cartoon and I doubt more than 10 minutes was spent painting it.

After the line took off and the orders started pouring in, most pieces were in very low supply and just about everything was backordered. Stores were clamoring for these things. To speed up production, simpler paint jobs were applied to the pieces and in my opinion the quality suffered.

Sometime in 1990, they decided to make some items in China (because it was cheaper, I assume). The plaques and waterballs, while initially popular, had poor quality control. Waterballs were frequently returned from stores because of air bubbles, and the plaques, well, the less said about them, the better.

I got to do a few shows, South Bend Indiana, Los Angeles trade show....dressed up as N'Chakk the wizard. The costume was made by Pat's sister and was incredibly heavy and warm.




I left Krystonia/Panton in 1991 but continued to follow the line for a few years as I still had friends who worked there. It seemed to me the pieces started getting sillier every year - somehow some of the "cool" factor went out the door. Eventually they moved all production to China and apparently the line died a slow death. Where once they had several hundred stores carrying the line, you would be hard pressed to find more than a couple stores that carry it. Now it seems they just sell old stock with some painted on gold and silver highlights for the collectors club pieces. Groc with a lantern? Owhey with gold feet? I'm not sure what the thought was here, but maybe they were just trying to clean house...

Regardless, I still love the "classic" Krystonia as it will always hold a special place in my heart! I'm putting this archive together to remember the "glory days".

Grunch


---

Random Krystonia factoids from the office/warehouse 1988-1991:

- In 1990, Hanna-Barbara was in talks to produce a Krystonia animated series. I even wrote some preliminary music for it. :) Nothing ever came of it however...

- 502 "Dragon's Play" was originally called "Pook Ball". The krystal was actually a small furry pook. They (literally) hacked it off and replaced it with a krystal because it was decided it looked "cruel" (even though the dragons do play pook ball in the book...

- Books 2, 3 and 4 were ghost written by someone in England. I'm not sure who did the artwork for book two but compared to book one it looks like a high school student did some quick sketches.

- Panton allowed employees to buy pieces at wholesale cost. Many employees took advantage of this and bought figures to re-sell to collectors from the collectors club at less than retail.
- Even though the rubber molds were destroyed when pieces were retired, the original resin sculptures were kept around so new molds could be created if needed. I have no idea if they ever did this.

- Pieces were initially retired randomly and had nothing to do with the number of pieces sold or produced. For instance, 1701 Large Rueggan was a first year retirement even though the piece was not very popular (unlike the other two retirements 1012 and 1091).

- Very early pieces had red or white felt instead of the standard green. Very early pre-production pieces sometimes had NO felt!

- The warehouse workers had a secret fort in the back built out of empty boxes of waterglobes. Inside the fort was a chair, some pillows and a small TV set. Management was never aware of this! We had rigged up a "door" that would slide up and down, and when in place it just looked like a large stack of waterglobe boxes. It was hysterical!


---
Pro-production/different pieces are seen in the original sales pamphlets. Possibly these were made before the line was pitched, as samples??

- 1011 Lg Graffyn on Grunch Green - changed to blue for ? reason

- 1012 Sm Graffyn on Grunch Green - changed to purple ? reason (interestingly, catalog sheet photo is purple and not green??)

- 1042 Sm Groc - I've still never come up with a definitive reason why they stopped making this piece. Dave gave multiple reasons over the years from "looked too similar to the other", "problems with breakages" and "wasn't a good seller". Who knows.

- 1051 Grackene w/2 hair ties + legs, thicker different hair - who knows

- 1061 Spyke w/weird toes - I'd guess the toes could break? Never seen this for sale

- 1091 3 prong N'borg - prongs probably broke off (?)

- 1092 N'Borg original staff - (?) no idea why they changed it

- 1031 Mos - has a ring around his tail

- 1103 XL Stoope - They made this through 1989, and discontinued because of the neck breaking and made it shorter/thicker

- 1501 Skinny Trumph - just plain weird

- 1201 Blue Myzer - changed to other colors for (?). The blue was awesome!

- 1301/1302 Lg/Med Wodema 2 krystals - to save $ on extra krystal?

- 1703 Small reuggan 2 krystals - to save $ again? (though why they kept med and large with 2 - ??)

- 3001 Lg. Krak silver/solid - probably cost a fortune in raw materials and to ship. hollowing it made it much lighter. They had this pictured as late as 1988's brochure


---
From James Proctor's research/notes:

Mark Newman Sculped Figures:
(All figures from 1987-1988, including pre-production variants)
Graffyn/Grunch L/S
Moplos L/S
Groc L/S
Grackene (Legs)
Spyke
Owhey
Grumblypeg Grunch
N'Borg L/S
Stoope XL/M/S
Myzer L/S
Wodema L/M/S
Poffles
Trumph
Turfen M/S
Rueggan L/M/S
Shigger
Haapf
Krak N'Borg L/M/S
N'Chakk L/S
N'Grall L/M/S
Grazzi (later versions have R.W. signature, but are otherwise identical. Lame!)
Tokkel

Robert (Bob) W. Sculpted Figures:
Grackene/Skirt (replaced the legs version circa 1989)
Stoope L (replaced the XL circa 1989)
Most pieces 1989-1997

Pieces after 1997 were designed in China and have no artist info.


---

Early Pieces had size/pose variations!
From 1987-1991, Krystonia figures sometimes came in varying sizes (Small, Medium or Large). The poses could be very similar or completely different.

There doesn't really seem to be any logic or rule as to what constitues "Large" etc, e.g. "Large" Groc is much smaller than "Medium" Tulan. Sometimes one of the three sizes was missing entirely. I wonder if maybe they had pieces planned for those missing sizes, but they never made it to production? I suppose the idea was to offer more affordable characters to people who couldn't afford the larger versions. I remember seeing the Large Krak N'Borg and Large Moplos at the Wicks 'n' Sticks in Ann Arbor and could not believe how crazy expensive they were!

They abandoned the concept of "one piece, multiple sizes" after 1991 - the same year they started selling the Miniatures.

Small/Medium pieces (no Large made)
- Turfen 1987
- Tulan 1989

Medium/Large pieces (no Small made)
- Moplos 1987
- Shepf 1987

Small/Large pieces (no Medium made)
- Graffyn on Grunch 1987
- Groc 1987
- N'Borg 1987
- Myzer 1987
- N'Chakk 1988
- N'Tormet 1988
- N'Borg's Throne 1990
- Grunch's Toothache 1991
- Groosh 1991

Small/Medium/Large (all 3 sizes)
- Stoope 1987 (Note that the numbering on this was screwy! 1101 is the Medium and 1102 is the Small. It should have been the other way around.
- Wodema 1987
- Rueggan 1987
- Krak N'Borg 1987
- N'Grall 1988
- Tarnhold 1989